Date
February 10 - 11, 2023
Details
**Registration has closed as of 2/1.**
Sign up to volunteer or bake desserts!

Sign up
---
Grow deeper with God and with each other. In the busyness of life, it is easy to lose sight of God's beautiful design for marriage. Join us for a time of fun, fellowship, and encouragement for your marriage. With speaker Bill Clark, we'll look at God's design for marriage and navigating the challenges that get in the way.
Schedule
Friday, february 10 — 7-10pm
Date Night! Enjoy dinner and entertainment on us, with opening remarks from Dr. Bill Clark.
saturday, february 11 — 9am–12:30pm (breakfast begins 8:30am)
Speaker sessions and other discussions. More details coming soon! 
Registration & Childcare
Early Bird registration (through December 31) – $40 per couple
Regular registration (beginning January 1) – $50 per couple
Childcare is provided for children 0-6th grade on Saturday. There is no provided childcare for Friday night. (Don't let childcare limitations keep you from coming! We can help; contact [email protected] with questions).
About our Speaker, Dr. Bill Clark
Bill is a licensed psychologist with a practice in Reston, Virginia. He is also the Director and Co-Founder of the Lay Counselor Institute. He serves as an adjunct professor at Cairn University and Reformed Theological Seminary. Bill was trained by Dr. Larry Crabb and Dr. Dan Allender at Grace Seminary, where he received an MA in Biblical Counseling. He also has a BA from the College of William & Mary, an MA in Theology from Fuller Seminary and a PhD in Counseling Psychology from the University of Maryland. Bill and his wife, Debbie, live in Fairfax County, Virginia.
---
Volunteer
Can you help with our Marriage Weekend? We are looking for a few volunteers to help with the event, and a lot of bakers to provide dessert for Friday night! View available slots in the link below, and consider signing up. Thank you!
Sign Up to Bake and/or Volunteer
Questions? Contact Laura Welke.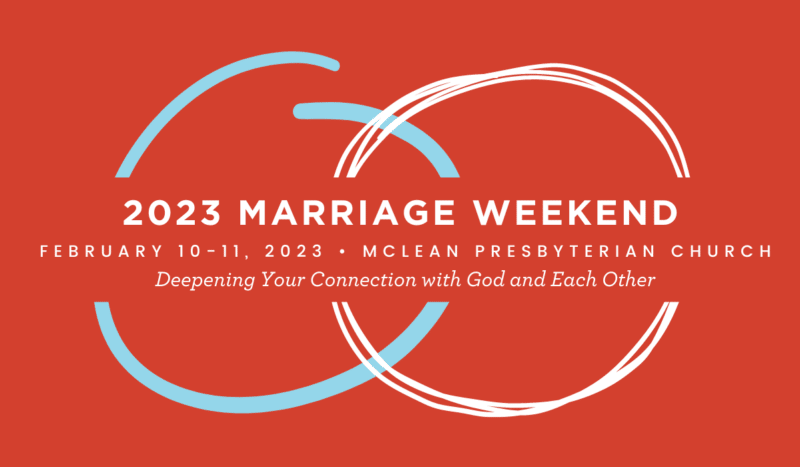 Location
McLean Presbyterian Church - Fellowship Hall
1020 Balls Hill Road, McLean, VA 22101
Contact
Laura Welke
Asst. Director of Care
[email protected]